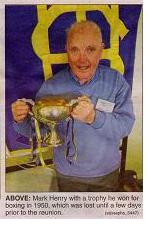 Way back in 1950 Mark was a winner of the trophy. But, as a boy in St John's Orphanage, if you won a trophy then it stayed in St. Johns. When the orphanage closed in the 1970's it was feared all memorabilia was lost. And, sadly in
most cases it has been. Just recently prior to a reunion in Young and with the good grace of the Sisters we were able to obtain some of these trophies that have been "held in trust" in Canberra.
Mark was a very accomplished boxer winning many fights in the region while at St John's and started to develop a reputation as a very keen hard hitting boxer. On leaving St John's he ended up in Sydney where he started training again. This move of fighting in the "big smoke" eventually got him selection on the Melbourne Olympic Boxing Team as a reserve.
Mark is overjoyed and quietly proud as he can now leave his treasured trophy to his daughter.
The search for more "lost" memorabilia is still continuing.
Other names on the Trophy are: 1941 K Case.1942 B. MacDougall.1943 T Shields. O Judge.1944 T Shields. 1945 J Maloney. 1946 J Maloney. 1947 R Mahon. 1948 R Bull. 1949 A Grey. 1950 M Henry.